William Richard Morris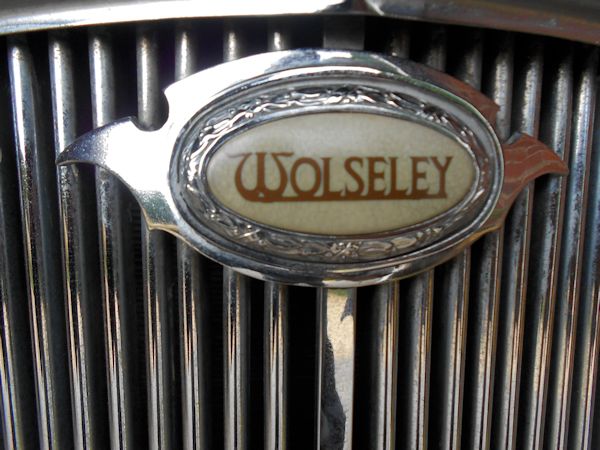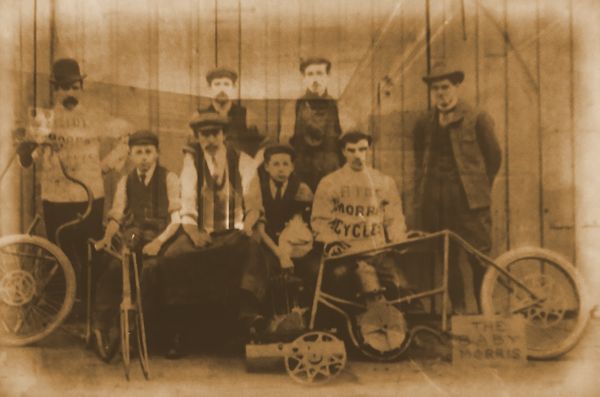 The Whole of the Morris workforce 1903
(William Morris standing far right)
One of the most outstanding car manufacturers in Britain during the twentieth century was the Morris motor company. William Morris was born on October 10th, 1877 in Worcester. His parents originally came from Oxford, and by the time William was three years old they had returned. Growing up a keen cyclist, upon leaving school at the age of 15 Morris was apprenticed to a local bicycle-seller and repairer. Nine months later, after his employer refused him a pay increase, aged 16 he set up a business repairing bicycles in a shed at the back of his parents' house. This business being a success he opened a shop at 48 High Street Oxford and began to assemble as well as repair bicycles, labelling his product with a gilt cycle wheel and The Morris. Morris raced his own machines competing as far away as south London. He did not confine himself to one distance or time and at one point was champion of Oxford (City and County), Berkshire and Buckinghamshire for distances varying between one and fifty miles, sometimes cycling to Birmingham and back just to pick up spare parts. His interests turned to motorcycles and by 1902 he exhibited his first home built motor bike at the Stanley Motor Cycle Show. The following year he married school teacher Elizabeth "Lizzy" at St Giles Church Oxford. His cycle and motorbike business flourished over the next few years before his attentions changed, by 1910 he had designed his first motor car the Bull Nose Morris.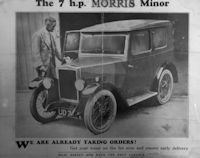 The 7 H.P Morris Minor advert
In 1902 Morris acquired buildings in Longwall Street from which he repaired bicycles, operated a taxi service, sold, repaired and hired cars. He held the agency for Arrol-Johnston, Belsize, Humber, Hupmobile, Singer, Standard and Wolseley cars. In 1910 he built new premises in Longwall Street—described by a local newspaper as
The Oxford Motor Palace
, changing his business's name from The Oxford Garage to The Morris Garage and still had to take more premises in Queen Street. The Longwall Street site was redeveloped in 1980, retaining the original frontage, and is now used as student accommodation by New College. During 1912, he built the first Morris Oxford at the Longwall Street Garage, announcing it at that years Motor Show. He did so well at the show he came away with an order book with deposits for four-hundred cars. At the start of the First World War he was working for the British Government and the Ministry of Munitions with his factory producing mine sinkers. For his war efforts he was given an O.B.E.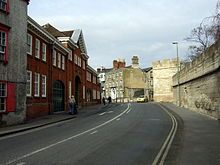 On the site of disused livery stables in Longwall Street in 1910 he had new premises built on the site for his Morris Motors Limited with space for 60 cars and showroom display windows
Inflation raised its ugly head during 1919 and his Morris Cowley was priced at £465. The early 1920s saw a slump in car sales, so he fought back by lowering his prices and developing mass production, which were inspired by his trips to America and their motor industry. His production increased from 400 in 1919 to 56,000 in 1925.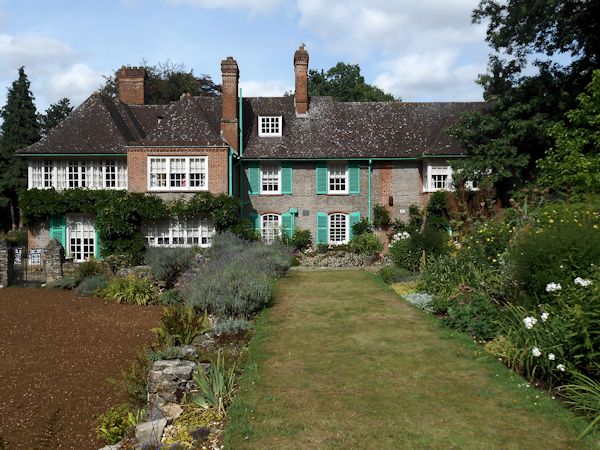 Rear garden view of Nuffield Place
In 1933 Morris purchased Merrow Mount at Nuffield and renamed it Naffield Place, where he lived for the rest of his life. In 1934 he was made Baron Nuffield. He set up the Nuffield Trust in 1936. He gave £900,000 to found the Nuffield College. Oxford University made him an honorary M.A and in 1938 he became Viscount Nuffield and in 1939 made an honorary fellow of the Royal College of Surgeons.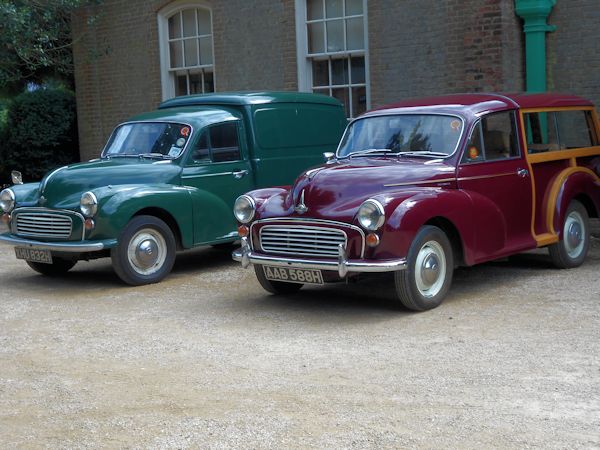 Morris Minor Van and Morris Minor Travellor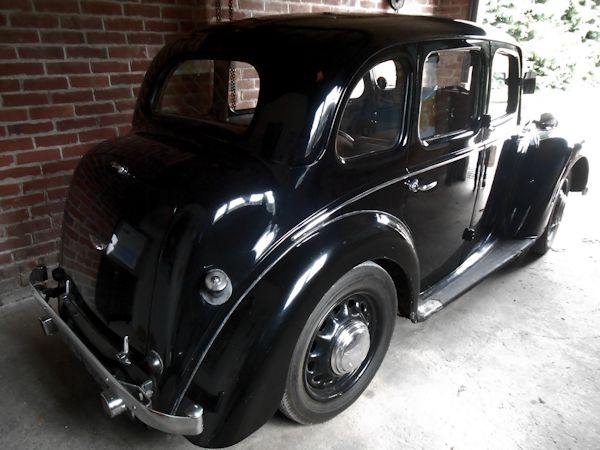 Lady Nuffield's Wolseley day to day car given to her by Lord Nuffield for her birthday in 1939
Nuffield Tractor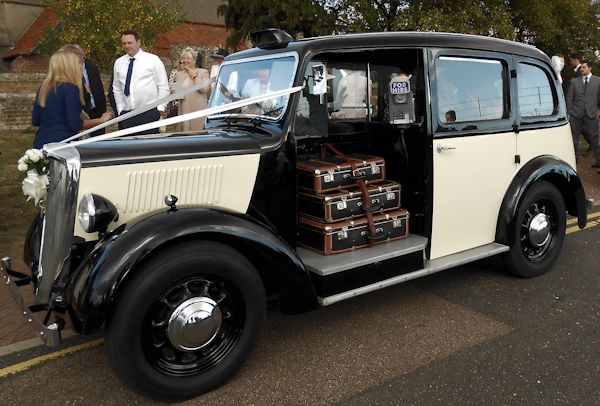 ?
Nuffield London Taxi now used for weddings
Morris Motors Limited merged with Austin Motor Company in 1952 in the new holding company, British Motor Corporation (BMC), of which Nuffield was chairman for its first year. Morris retired as a director of BMC on 17 December 1952 at the age of 75, taking on the title of honorary president instead. He was succeeded as chairman by Leonard Lord. As honorary president, he attended his office regularly and advised his colleagues.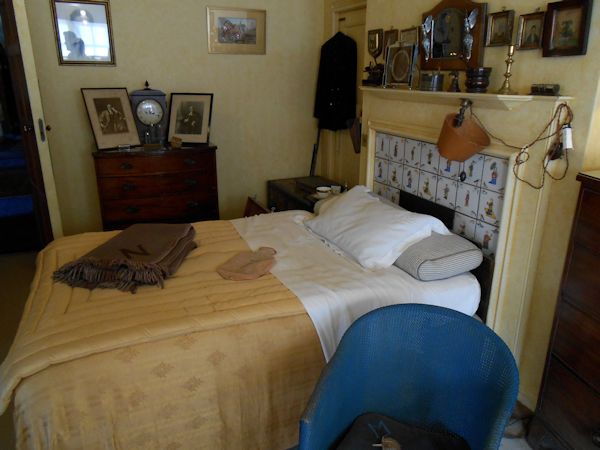 Morris's death bed at Nuffield Place
He died in August 1963, aged 85. The baronetcy and two peerages died with him as he was childless. He was cremated, and his ashes lie in Nuffield churchyard, beside his wife's.
London Time

The contents of this website are the property of knowledgeoflondon.com and therefore must not be reproduced without permission. Every effort is made to ensure the details contained on this website are correct, however, we cannot accept responsibility for errors and omissions.

Contact Us | Advertise