London Famous # 1: Charles Dickens
48 Doughty Street, WC1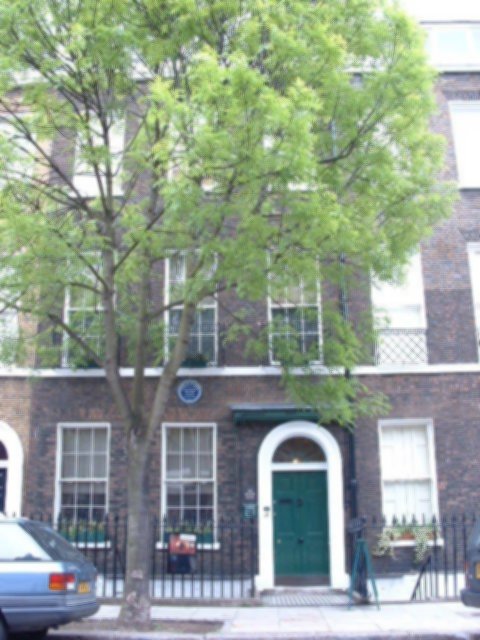 Charles Dickens moved to Doughty Street in March 1837 from Furnival's Inn, where he had lived with his wife Catherine (Kate) since their marriage in April of the previous year. They brought with them their first son Charles, Kate's younger sister Mary Hogarth, and Dickens' younger brother, Frederick. The spacious new house, a four-storied, late eighteenth-century building, provided plenty of room for the Dickens family. The street itself was highly respectable, with gates at either end attended by porters, a far cry from Dickens' poverty-stricken childhood. A few days after moving in, the serialisation of The Pickwick Papers began. Just a few weeks later, the family suffered a major loss when Mary Hogarth, the sister-in-law to whom Dickens was devoted, died suddenly aged only seventeen, after returning from the theatre with Charles and Kate. Dickens was paralysed with grief and was for some time unable to write. Mary from then on was always idealized by Dickens. She was the model for Little Nell. His wife Kate was unable to live up to her sister's goodness in Dickens' eyes, leading to the failure of their marriage. In this house, Dickens wrote both The Pickwick Papers (1837) and Oliver Twist (1837). After this, he travelled to Yorkshire to learn about cheap boarding schools. He returned to Doughty Street in February 1838 and started on Nicholas Nickleby. The novel was serialised between March 1838 and September 1839 (each issue dated a month later). He also started work on Barnaby Rudge, although it was not published until after he had moved from Doughty Street. By the end of 1839, Dickens had decided to move. The birth of two daughters, Mary (Mamie) and Catherine (Kate), at Doughty Street, made moving to a larger house necessary. He found a more suitable house at number 1 Devonshire Terrace, where he lived until 1851. It was demolished in 1958. 48 Doughty Street now houses the Dickens Museum, with the house remaining much as it was in Dickens' time. Opening times from Monday to Saturday 10:00 to 17:00
London Famous # 2: John Constable
40 Well Walk, NW3
Constable moved to London from East Bergholt in Suffolk in 1795 to join the Royal Academy School. He lived in a variety of places: Charlotte Street off Oxford Street, and Keppel Street near the British Museum. In 1817 he married his long-time sweetheart Maria Bicknell, and they set up home in Keppel Street. It proved a bit small for a growing family so they moved to 76 Charlotte Street W1. This house once had a blue plaque but it was demolished, and a modern office building now stands on its site. Repairs and alterations were made when they first moved into this house, and, although they moved out in 1821, it was retained till his death. His wife Maria was in constant ill health and the illness of his eldest son caused Constable to move to the country, finally settling in Hampstead. First at 2 Lower Terrace and then Downshire Hill, before finally settling at 40 Well Walk (then no.6 Well Walk). In August 1827 Constable wrote to a friend that they were all happy in their Well Walk home and would move no more. Constable kept half his Charlotte Street home as a studio, and let the rest for some much-needed money, as their seventh child was born in 1828. Constable painted both in Hampstead and Suffolk. He wrote that the view from "our little drawing room is unsurpassed anywhere in Europe, from Westminster Abbey to Gravesend". His watercolours of views from Hampstead show the spirit of his words. His wife died of consumption after a long and painful illness. She died in the house in 1828, and the death of her father a short time before gave Constable some financial security, so that he could employ a housekeeper to cook and look after the seven children, and could stay on in the Hampstead house. He kept the Hampstead house until at least 1834, and died in a little attic bedroom at 76 Charlotte Street W1, from an attack of indigestion on 31 March 1837. There is a monument to Constable in St John's churchyard, Hampstead.
London Famous # 3: William Bligh
100 Lambeth Road, SE1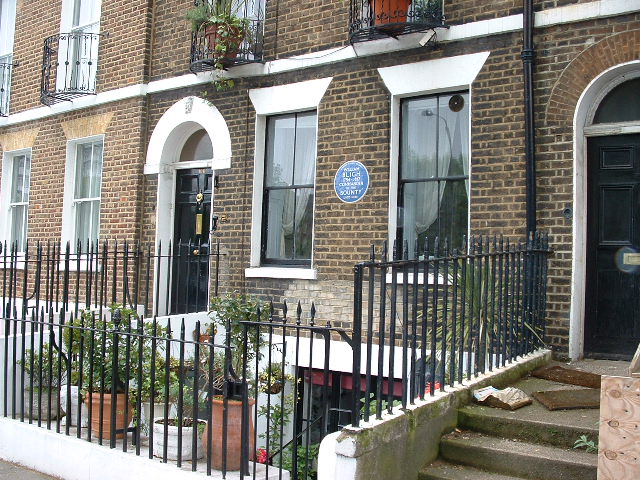 The three-bedroom terraced house in Lambeth Road was bought by Bligh in 1794. Born in Cornwall in 1754, William Bligh had accompanied Captain Cook on his second voyage aboard the Resolution in 1772-74. This voyage led to Bligh's appointment to captain the Bounty in 1787. As on the Cook voyage, bread-fruit was to be introduced to the West Indies from Otaheite (Tahiti). After they arrived at Otaheite, they stopped for six months before sailing on to the West Indies. After sailing away from Otaheite, the crew mutinied, led by the master's mate Fletcher Christian, and cast Bligh with eighteen loyal crew members adrift in an open boat. The mutineers made for the Pitcairn Islands, where they settled (and where their descendants still live to this day). William Bligh and the loyal crew drifted for 400 miles and landed at Timor, suffering from exposure, hunger and thirst. Returning home to England in 1790, a court-martial exonerated Bligh from any blame. The following year he again sailed on his second voyage to collect bread-fruit and take it to the West Indies.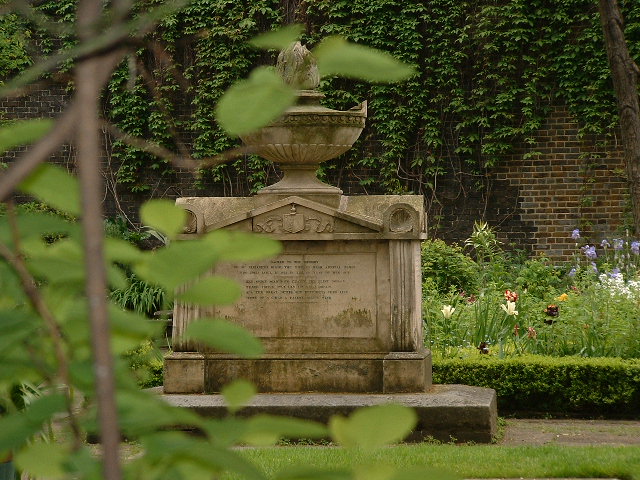 On his return, he moved into 3 Durham Place (now 100 Lambeth Road). After a successful career as a naval commander, in 1805 he was appointed Captain General and Governor of New South Wales. He left his wife and children at the home in Lambeth and sailed with his daughter and son-in-law to Australia in February 1806. Once again his fiery temper aroused violent feelings against him. In January 1808 he was again at the centre of a mutiny, led this time by an infantry officer, Major George Johnson. Bligh was imprisoned by the mutineers and was not freed until 1810. His wife meanwhile was still at Lambeth Road and still in love with him. During August 1808 she sent clothes, newspapers and a letter that ends "... this box I hope you will receive safe with my most sincere and affectionate love. The dear Children send their affectionate Duty - And I am, my dear Mr Bligh most sincerely your Elizabeth Bligh."
London Famous # 4: Samuel Pepys
14 Buckingham Street W.C.2
Samuel Pepys lived in London all his life and is best known for his diary of The Great Fire of London and the Great Plague of the 1660s.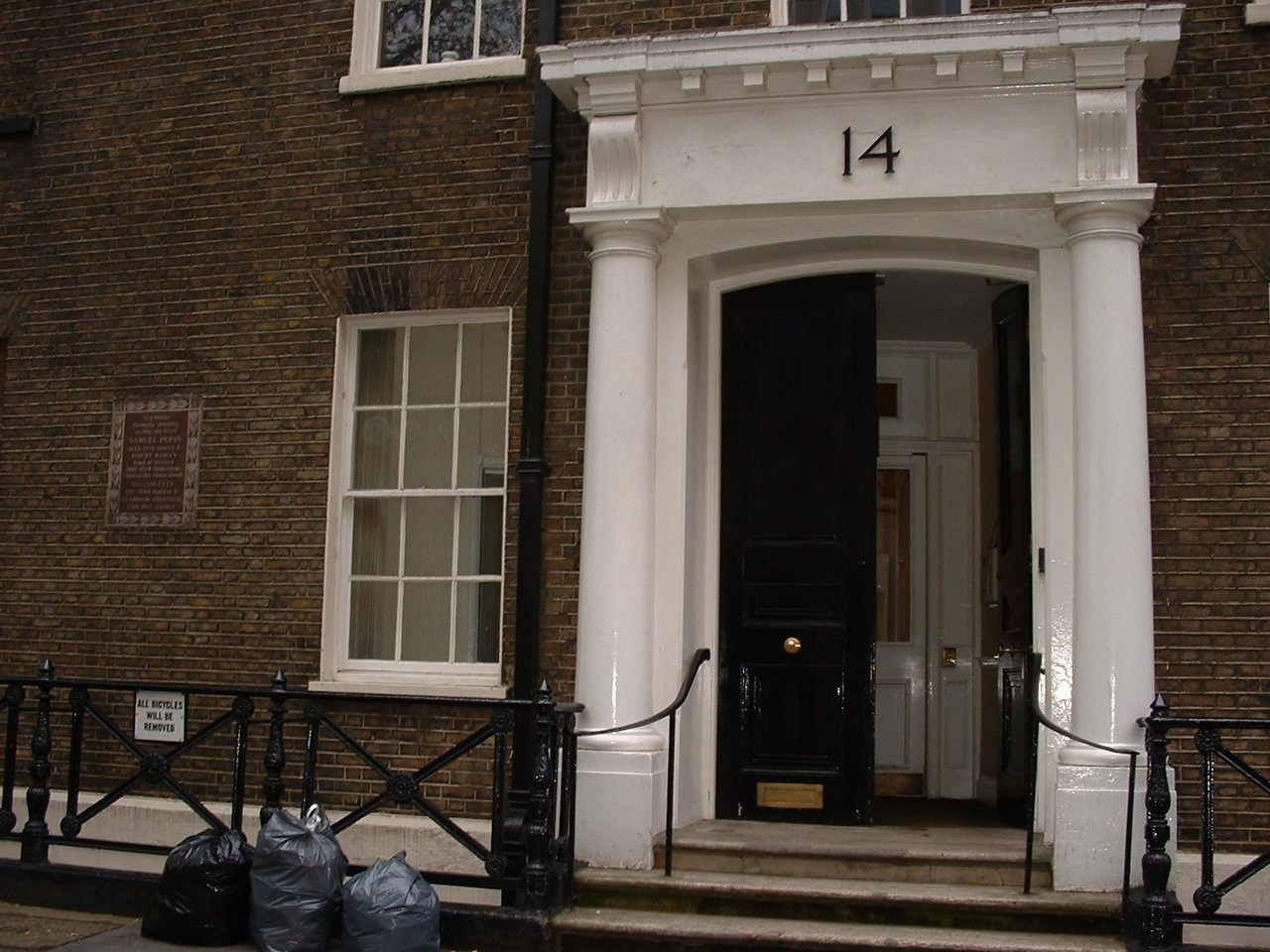 In 1679 he came to live in Buckingham Street. Before this, he had been thrown in the Tower following hysteria aroused by the fictitious 'Popish Plot'. He had once been married to a Catholic who had converted before her death in 1669. A close friend of the Duke of York, who also became a Catholic in 1672, Pepys became an obvious suspect in the supposed plot to put a Catholic king on the throne. He was arrested in 1678 and put in a cell in the Tower. His friends stood by him and he was released on bail. William Hewer, his former clerk, let him live at this house in Buckingham Street until he cleared his name in 1680. The area was a fashionable place at the time. The Palace of York which had once stood here had been demolished. All that now remains of the palace is York Watergate at the bottom of the street, which once marked the bank of the Thames, now divided by the Embankment Gardens. Although much changed, 14 Buckingham Street was a very fine new house, with six bays. Pepys did a lot of writing from here, and started a library with a vast and varied collection. The library was bequeathed to Magdalene College, Cambridge, in 1701. In that year Pepys moved to Hewer's house in Clapham, where he spent the last two remaining years of his life.
London Famous # 5: Samuel Johnson
17 Gough Square, EC4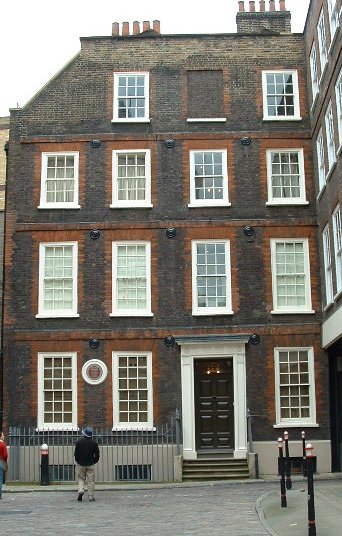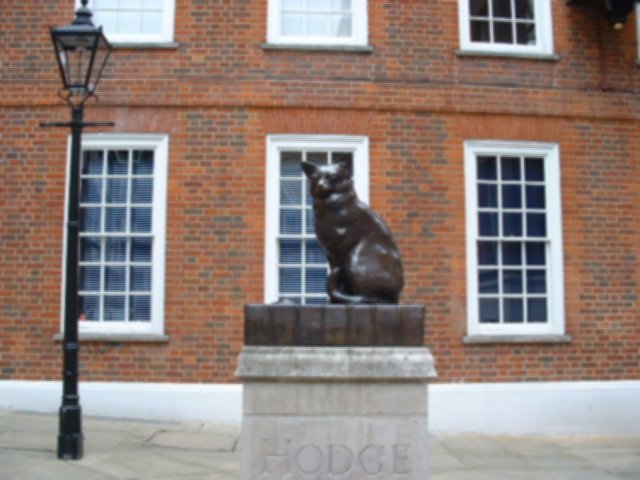 Johnson's cat Hodge
The house in Gough Square is still standing today much as it looked in Johnson's time, with the little courts and alleyways to the north of Fleet Street still running into the Square. Fleet Street itself has changed a lot: in those days it was a much narrower cobblestone street already noted for its many taverns. Johnson's local, the now famous Cheshire Cheese. His famous tavern chair, ('the throne of human felicity') can still be seen in the upstairs bar as if waiting for him to come back in for a pint of ale with friends like Boswell, Garrick, Burke, Goldsmith and Reynolds. If still able to walk, they would occasionally drag themselves off to the Mitre, at 39 Fleet Street (no longer standing) the tavern where Johnson and Boswell decided upon their famous tour of the Hebrides. The house at Gough Square, rented by Johnson for £30 per annum, was Johnson's happiest London residence, and also his saddest. 17 Gough Square is best known as the house where Dr Johnson compiled his Dictionary. The task took eight years to complete. He worked in the attic on the third floor, which stretched across the house. He received a pension from George III in 1760 and made the house a refuge for the homeless. Johnson's last home was at 8 Bolt Court (now demolished). He spent more time travelling up and down the country. London remained dear to him, for as he once said, 'No, sir, when a man is tired of London, he is tired of life; for there is in London all that life can afford.'
London Famous # 6: Billy Fury
1 Cavendish Avenue, NW8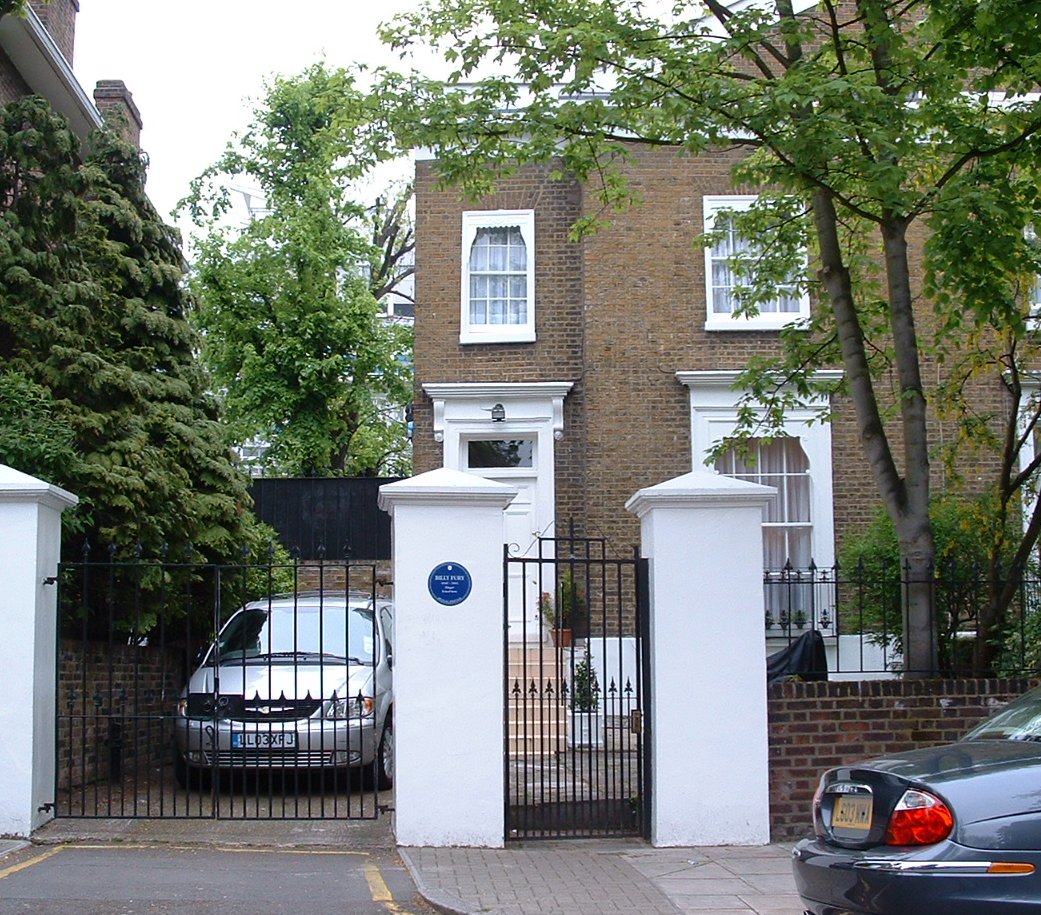 Billy Fury, born Ronald Wycherley on April 17th, 1940, in the Wavertree area of Liverpool. The first son of Albert and Sarah Jane (Jean) Wycherley. Rheumatic fever at the age of six and again at about 16 led to lengthy periods in hospital and resulted in a permanently damaged heart. The Dingle area where Billy grew up was tough, but despite his health problem the youngster managed to cope. On Wednesday, October 1st, 1958, Ronnie and a couple of his mates took the ferry across the Mersey, a trip that was to change his whole life. Ronnie was ushered into Marty Wilde's dressing-room. With a guitar in his hand, he sang two of his own numbers: "Margo" and "Maybe Tomorrow". Parnes was impressed by the youngster's talents and looks. Billy's career skyrocketed right from the start; within days he signed with Decca Records and recorded his first disc, the self-penned "Maybe Tomorrow", which charted in February 1959, spending nine weeks on the charts, peaking at No. 18. By the end of April 1959 he had already made his television debut as an actor, playing a bit part in the ATV play "Strictly For Sparrows" (plugging his first single, naturally), appeared on the television pop show "Cool For Cats" and made his radio debut on the BBC Radio show "Saturday Club". He also established himself as a regular on Jack Good's legendary "Oh Boy!" television show. During the intervening years, Billy was plagued by ill health. The year 1983 looked bright for Billy: a brand new album was on its way, plans for a nationwide tour with Helen Shapiro were made, and he taped six songs for the Channel 4 TV show "Unforgettable". On January 27th, after working late in the studio, Billy returned home and collapsed during the night. At 2.10pm on 28th January, he was pronounced dead on arrival at St Mary's Hospital, London, after being found unconscious in his flat in Cavendish Avenue, St John's Wood. He apparently died in the ambulance. He was 42. A week later his funeral was held at St. John's Wood Church. Among the mourners were Larry Parnes, Marty Wilde, Hal Carter and ex-Pirate Mick Green, in addition to family members, friends and fans. The choir sang a special version of Billy's Decca hit "I'm Lost Without You", a fine tribute to the great performer. After the service, Billy was buried at Mill Hill cemetery.
London Famous # 7: Wat Tyler
Fishmongers' hall, Upper Thames street, EC4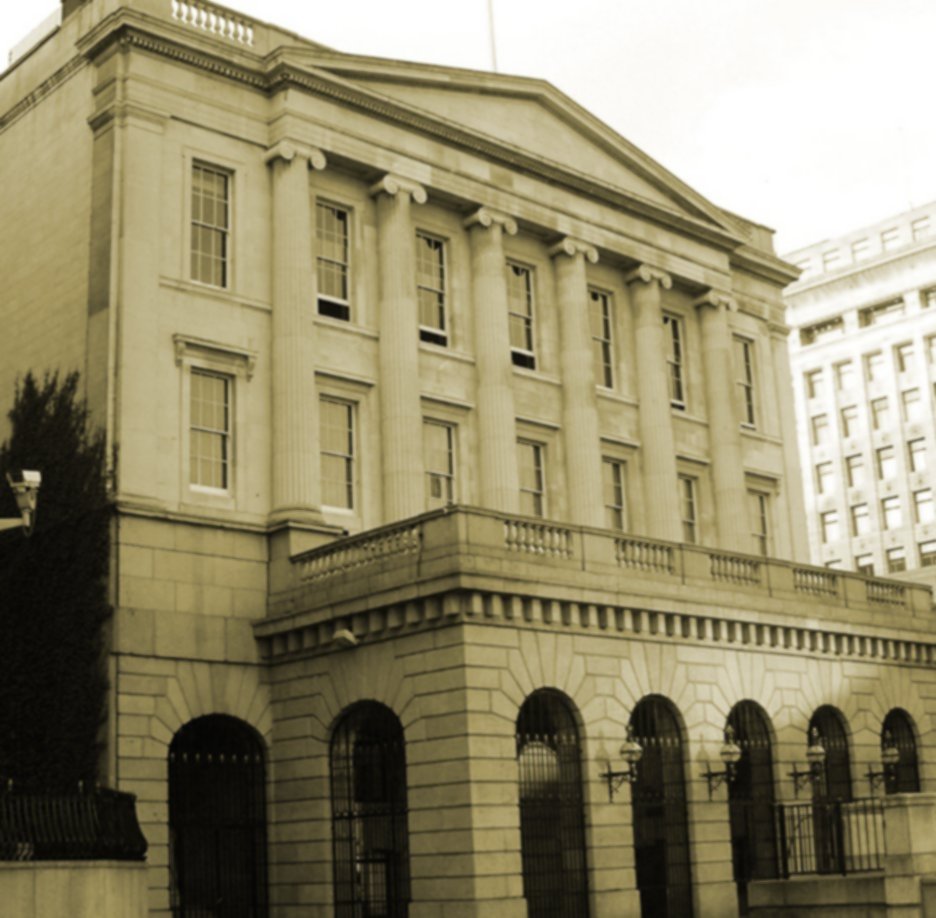 One of Fishmongers Hall's most treasured possessions is the 12-inch immaculately preserved, ridged dagger which killed Wat Tyler in June 1381, making the Peasants' Revolt a failure. The man who slew Wat Tyler was a fish dealer and Lord Mayor of London, William Walworth. The dagger is in a special glass case, with a life-sized Walworth with the dagger in hand standing over the staircase. Wat led some 10,000 Kentish men to London making their first stop at Blackheath to gather the peasants together. Their number alarmed the 14-year old King Richard II, who seeing them confessed his sins at Westminster Abbey and sought refuge in the Tower of London. At the same time, the Essex Peasants led by Jack Straw gathered at Clerkenwell Green after turning over St John's Priory. Wat's men surged into the City only stopping at Southwark to burn down the brothels and release the women held there. Once over London Bridge, they opened the Fleet Street debtors' gaols. They beheaded the Archbishop of Canterbury in the Tower, and burnt hundreds of legal books in the Temple, sending the lawyers running like rats. They then went into Savoy Palace (where the Savoy Hotel stands today) with many of Wat Tyler's men getting drunk on the wine of John Gaunt, tax collector for the king. Richard the boy king had to parley, and they all gathered at Smithfield where the peasant mob now numbered some 100,000. Tyler's demands were many: an end to serfdom and an end to high poll taxes among others. Richard said he would do all he could, but Lord Walworth took direct action and stabbed Tyler in the neck with his dagger. Tyler was dragged to Bart's Hospital, but he was beheaded soon after. Walworth was knighted on the spot and awarded £100. The crowd fell apart. Richard soon made his views known, serfs were serfs and would remain so. Other rebels were beheaded with their heads later spiked upon London Bridge, warning others to stay in line. Alas, there is no monument to this king of rebels; some say there should be something at Smithfield. There is only one small street in Blackheath called Wat Tyler Road. The most treasured reminder is the dagger in Fishmongers' Hall. You can view the dagger by appointment only.
London Famous # 8: Charlie Chaplin
Methley Street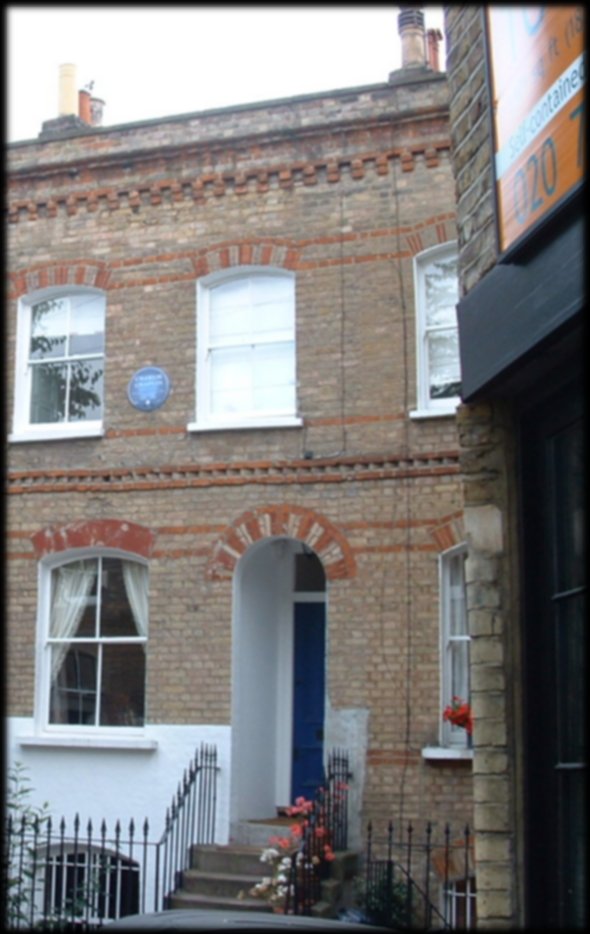 As a child Charlie Chaplin lived at the end of Methley Street Kennington, S.E.11, next to a slaughterhouse and pickle factory. Charlie's childhood was a reflection of Oliver Twist and was a true rags to riches story. Born on April the 16th 1889 in the slums of south London, with both his parent's music hall artists. His Father Charles was a comic singer, his Mother Hannah was a soubrette. Charles Snr deserted the family and died an alcoholic aged thirty-seven. Worn down with the abject poverty and malnutrition, Hannah lost her mind. When Charlie led her to the hospital the local children threw stones at them both. Hannah spent years shunted in and out of asylums. Without a mother, young Charlie and his elder brother Sydney were temporarily placed in a Dickensian workhouse. On Christmas Day, the inmates were given oranges. Charlie had never seen an orange before and didn't know it was something to eat. When Hannah was released, the family stayed in dingy lodgings in Methley street, with the smell of pickle from the factory opposite. Charlie grew from his humble beginnings to the worlds greatest comic, but never forgot his south London roots. In the 1950's he came back and visited this house in
Methley Street and also another childhood home in Kennington Road
. He also looked sadly at The Three Stags pub on Kennington Road, where he last saw his father alive.
London Famous # 9: William Shakespeare
Ireland Yard. EC4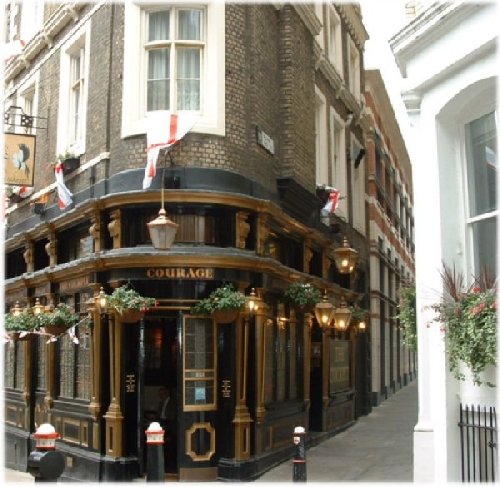 Of the few London addresses that Shakespeare was associated with, Ireland Yard is by far the best documented. Now just an alleyway, it was then the main entrance to Black Friars monastery. The monastery buildings had been seized and sold off during the dissolution but they were mostly left intact. The former gatehouse stayed in place and it was this that the playwright bought in 1613. Shakespeare's choice of Blackfriars when it came to buying the gatehouse on Ireland Yard was an ideal prospect for Shakespeare. It was a good investment and the Blackfriars Playhouse was only moments away. But the final decision to purchase may well have been forced by fate - 1613 was also the year that the Globe burnt down so the company would have had to transfer lock, stock and barrel to Blackfriars in order to keep working. No doubt swayed by a combination of these factors, Shakespeare went on to pay £140 for the gatehouse. While no physical description of it survives, a deed of Conveyance for the property states that it was: '.…now or late being in the tenure or occupancy of one William Ireland ... abutting upon a street leading down to Puddle Wharf on the east part, right against the Kinges Majesties Wardrobe.…' The King's Wardrobe was a department of the royal household. It is still remembered in nearby Wardrobe Place and in the name of the church of St. Andrew-By-the-Wardrobe. Shakespeare died just three years after buying the property in Ireland Yard. The gatehouse passed to his daughter as he intended, and she, in turn, passed it to her daughter Elizabeth. Elizabeth, who was Shakespeare's last descendant, sold it around 1667.
London Famous # 10: Jimi Hendrix
23 Brook Street, W1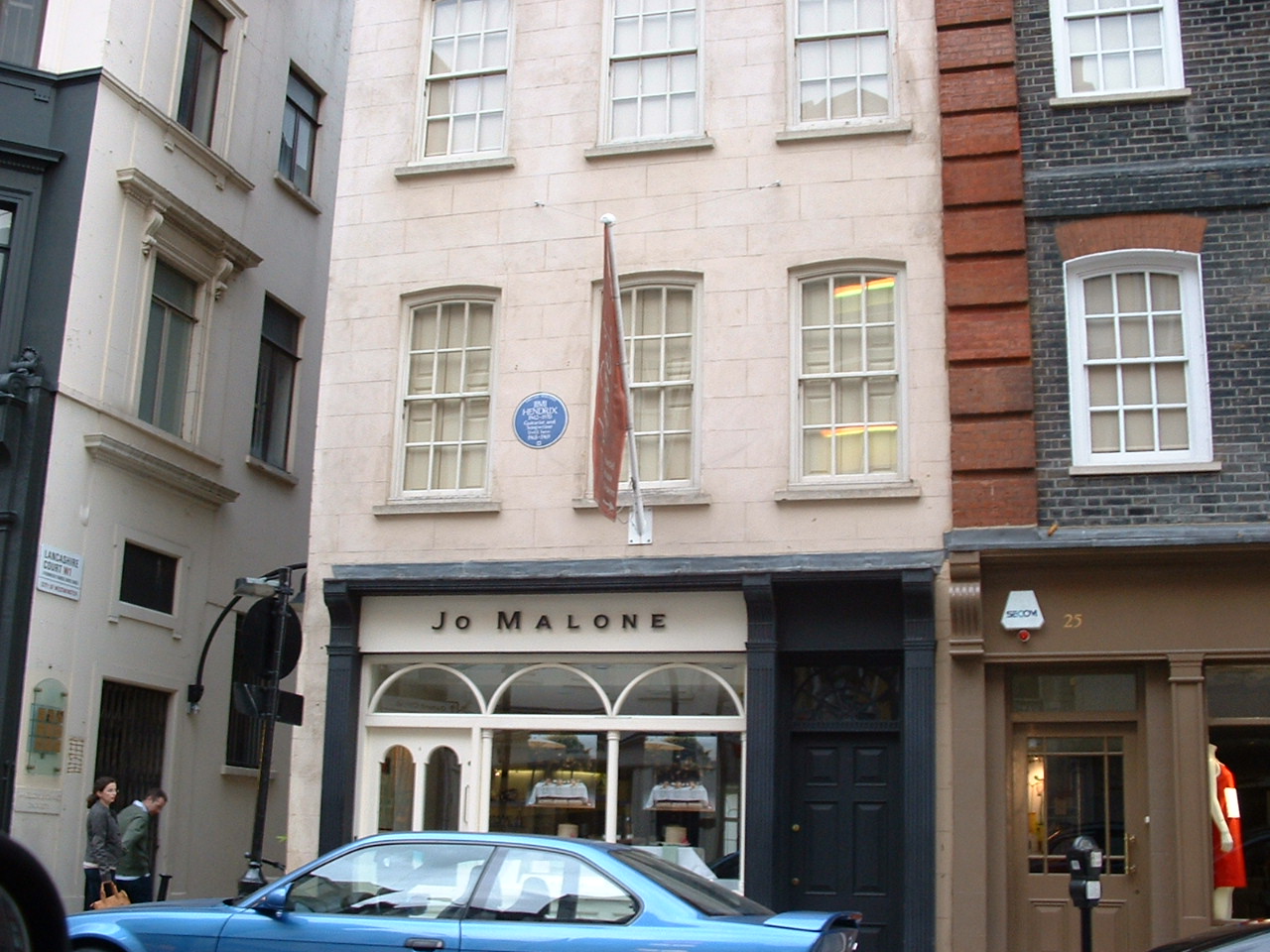 'It's funny the way most people love the dead. Once you are dead you are made for life. You have to die before they think you are worth anything..." In the very busy Mayfair part of London, at the end of Brooke Street, almost with the junction of fashionable Bond Street, lived two renowned musicians: one George Frideric Handel (1685-1759) and just over two-hundred years later Johnny Allen Hendrix, better known as Jimi, born 27 November 1942, Seattle, Washington, USA, died 18 September 1970, London, England. Jimi moved into number 23 Brooke Street in January 1969 with his girlfriend Kathy Etchingham. In 1723 in a first-floor room next door, Handel wrote the Messiah. Handel did not leave this house for twenty-four days while writing it. Of course, Jimi would have known of his famous next door neighbour, but I wonder what Handel would have thought about the guy next door. They both were big on the music front, and only time will tell if Hendrix will still be remembered two-hundred years from now. In a street more noted for its property tycoons and fashion accessories, resided these two geniuses of the music world.
Continue to part 2
London Time

The contents of this website are the property of knowledgeoflondon.com and therefore must not be reproduced without permission. Every effort is made to ensure the details contained on this website are correct, however, we cannot accept responsibility for errors and omissions.

Contact Us | Advertise