King Henry VIII of England THIRD WIFEJane Seymour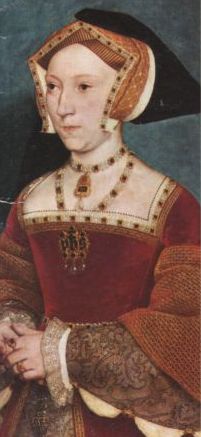 Born 1509: Married 1536: Died 1537
Once the lady-in-waiting to Queen Anne Boleyn, as indeed Anne had previously been to Catherine Aragon. Jane soon felt the attention of Henry on her after the beheading of Anne, Jane soon became her replacement marring Henry on the 30th May 1536. Of the six wives, Jane was the only one who never had a coronation, although acknowledged a few days after the wedding as queen on 4 June, yet she is proclaimed as being the Kings only love in the true sense of the word. Rumours of the queen's pregnancy began to circulate within a few months of her marriage but had to wait for confirmation until the early months of 1537. She gave the king his long-awaited son, the child Edward was born at Hampton Court in October 1537. Edward was christened on the 15th October and on the 24th day of the same month Jane died. She was buried in St. George's Chapel Windsor Castle and is the only wife that Henry chose to be buried alongside.
The contents of this website are the property of knowledgeoflondon.com and therefore must not be reproduced without permission. Every effort is made to ensure the details contained on this website are correct, however, we cannot accept responsibility for errors and omissions.


Follow us on Twitter
Our time is FREE!
Is the information and enjoyment enough to donate towards our running costs?