The City Police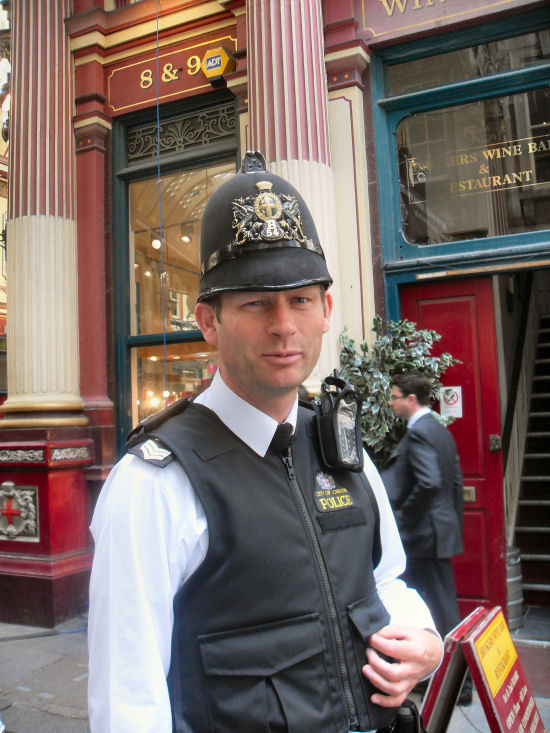 The City of London Police was formed during 1839, ten years after the Metropolitan Police, with the first Commissioner, Daniel Whittle-Harvey, being responsible for around 500 officers. During 1842 the force moved from its first headquarters at the Corporation of London's Guildhall to 26 Old Jewry, where it remained until being relocated to Wood Street in 2002. The uniform of the City Police differs from the Metropolitan and other police forces. The majority of British police forces have silver-coloured badges, whereas those of the City Police are gold. The force also has unique red and white chequered sleeve and cap bands (red and white being the colours of the City of London), which in most other British police forces are black and white. City police officers wear slightly larger helmets than other forces whilst on foot patrol. These helmets do not feature the Brunswick Star, which is used on most other police helmets in England and Wales. The City Policemen had a tradition of having to be taller than those of the Met, and with today's 900 police officers and three police stations (located in Snow Hill, Wood Street and Bishopsgate), the City of London Police is the smallest Home Office territorial police force in England and Wales, both in terms of geographic area – the square mile centre of London – and the number of police officers.
The contents of this website are the property of knowledgeoflondon.com and therefore must not be reproduced without permission. Every effort is made to ensure the details contained on this website are correct, however, we cannot accept responsibility for errors and omissions.


Follow us on Twitter
Our time is FREE!
Is the information and enjoyment enough to donate towards our running costs?