The Salisbury Court Playhouse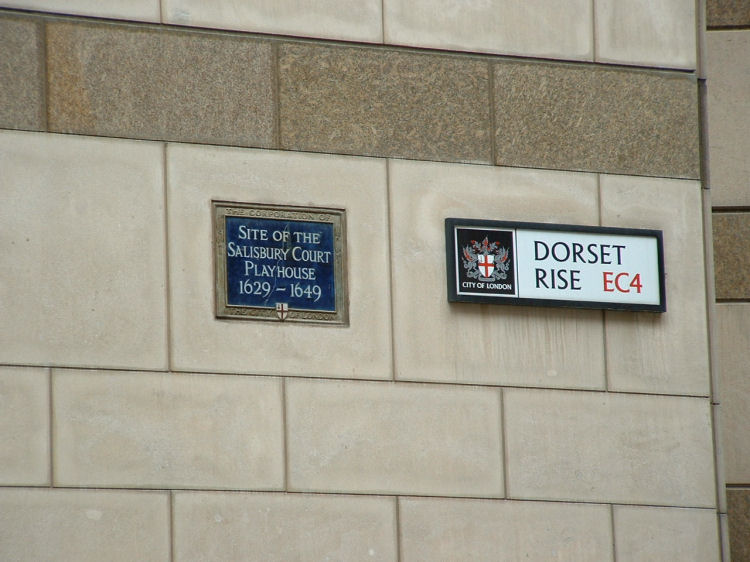 The Salisbury and the Dorset Playhouses are still remembered with local street names, Dorset Rise and Salisbury Square
The Salisbury Court Playhouse was located in the neighbourhood of Salisbury Court, once the residence of the Bishop of Salisbury. Salisbury Court Playhouse converted from a barn or granary in the grounds of Dorset House, "a new faire Play-house" founded by Edward Sackville, 4th Earl of Dorset, in 1629. The successor to the earlier Whitefriars Theatre, the Salisbury Court Playhouse remains one of the mysteries of the Stuart theatre age. The little we do know is William Blagrave and Richard Gunnell built the Salisbury at a cost of £1,000, Salisbury Court was the last theatre to be built before the closing of the theatres in 1642, during the Puritan era. Samuel Pepys records visiting it several times in his diary for early 1661. His famous Diary provides information on the plays acted at the Salisbury immediately after the theatres re-opened. The building burned down in the Great Fire of London in 1666, being replaced by the Dorset Gardens Theatre built by Sir Christopher Wren.
The contents of this website are the property of knowledgeoflondon.com and therefore must not be reproduced without permission. Every effort is made to ensure the details contained on this website are correct, however, we cannot accept responsibility for errors and omissions.


Follow us on Twitter
Our time is FREE!
Is the information and enjoyment enough to donate towards our running costs?